Three Years Ago Today
This popped up in my memories this morning. This was a historic moment for me–I'd already had my mind blown about the importance of knowing your Content genre but I hadn't yet had my mind blown about applying the correct genre to my climax. Reading the Story Grid changed the way I thought about writing. Taking the Story Grid class and meeting all these fine people changed the way I write and my novel has borne the fruit of some excellent training, great mentorship and collaboration, and lots and LOTS of hard work.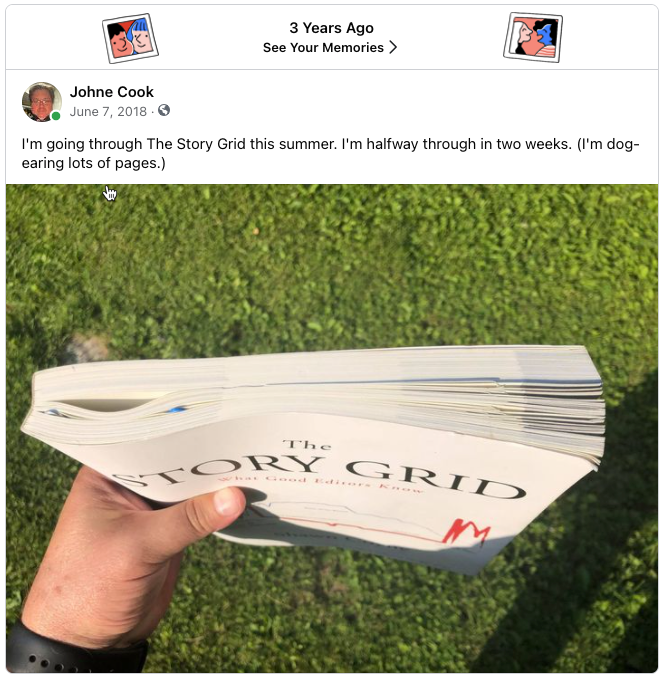 Dipping my toe into SG has opened my eyes to other tools. A year ago I worked with Story Grid Certified Editor Danielle Kiowski and have been doing a page one rewrite based on her feedback, I've been having a blast with the Pages & Platforms group (Anne Hawley, Rachelle Stewart Ramirez, Sue Campbell), I've been taking the webinar classes from Robert McKee, and I found a SHEG (editing group) who I meet with weekly (Don Elliott and Karen Schoch McDaniel), and which has had a profound impact on the quality of my work. I used to write when the Muse visited and now I write every day, and have done for the past 164 days in a row.
Since this picture was taken, I've written eleven drafts of my novel THE BLUE GOLEM. My plan is to do a quick prose pass for my 12th draft, finally share the novel with a group of Beta readers interested in my fantasy / noir golem detective novel, and I hope to have it out by the end of this year, give or take. All of this started three years ago, and I couldn't be happier with where I am in my writing and the different extensions of my larger writing tribe.